Can you dry a wood floor after water damage?
Absolutely!
Gone are the days where "tear up and replace" were the only strategies in a water damage situation. Now, the foremost consideration is the cost of replacement vs drying a timber floor.
At Wood Floor Drying, we use improved science and technology to dry flooring better in order to save you time and money.  We thoroughly assess the damage and select the most appropriate methods, from tenting to using injection floor mats or blowers, that have the capacity to push or pull air from the wood floor surface or subfloor, without the need for removing the existing floor.
And, as IICRC certified restorers, we ensure that all water is trapped and dehumidified to avoid secondary damage, such as mould.
See what we've done
We've completed a multitude of projects over several years.  Have a look at examples of our works.
Basketball Court
Water continually seeped on the courts during the wet season causing damage to 3 basketball courts.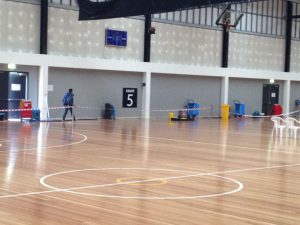 Residential
Moisture wicked from the concrete floor beneath causing the floor boards to cup.
We use the latest technology in wood floor drying.
Save money, less stress and no need for wood floor replacement.
Save time so you can return quickly after a water damage event.
We have the most qualified drying engineers in Australia to assess your wood floor.
Simply call us on 0413 282 997 to arrange an inspection or for more information
Our accreditation and memberships